After being disrupted due to the first wave of the COVID-19 pandemic, exports had begun to rise in December of 2020. Due to the low base effect (the tendency of a small absolute change from a low initial amount to be translated into a large percentage), merchandise exports grew substantially at 193.63 %in April 2021 compared to the same month of the previous fiscal. The low base effect has continued to wear off as calculated annually, exports rose by 69.7% in May 2021 and 48.3% in June 2021. A part of the increase in exports can be attributed to the shipments of petrol and diesel. Official data showed that non-oil exports grew 36.6% to $28.6 billion, while the export of petroleum products was up 139% to $4.6 billion in August, driven by spike in global prices. Oil products were the second-largest item in India's exports basket.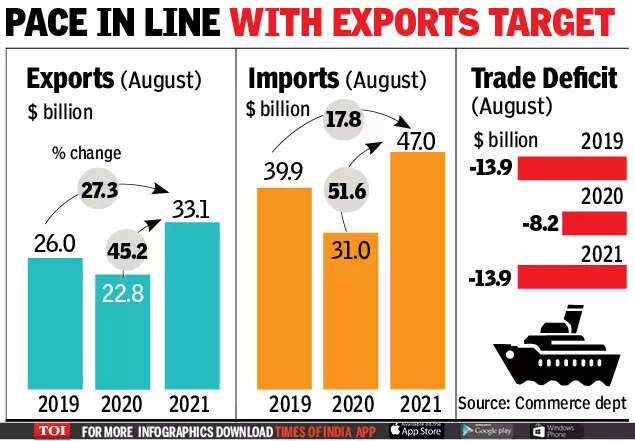 On the other hand, merchandise imports also saw a huge jump of 51.47% to $47.01 billion in August 2021 against $31.03 billion in August 2020. Similar to exports, the low base effect of last year has continued to wear off as import growth has moderated in the past few months.

We have discussed some of the latest updates in Indian trade below:
Amazon India signs MoU with Gujarat Government to boost exports from the state (Source)
As part of the MoU, Amazon will train and onboard MSMEs from the state on Amazon Global Selling, enabling them to sell their unique made in India products to million of Amazon customers across more than 200 countries and territories With this programme, homegrown businesses get instant access to global markets from Day 1, benefiting from Amazon's distribution capabilities and global footprint to scale rapidly and build sustainable export business. Amazon India will also conduct workshops for exporters from key MSME clusters such as Ahmedabad, Vadodara, Surat, Bharuch, and Rajkot focusing on sharing expertise and providing training to MSMEs about B2C e-commerce exports and selling through Amazon's 17 foreign marketplaces.
India's exports rise 45% to $33.14 billion in August (Source)

India's merchandise exports in August touched $33.14 billion, 45.17% higher than a year ago and 27.5% over the pre-pandemic level of August 2019, but the trade deficit widened to a four-month high driven by a sharp uptick in gold imports. Among the major commodity groups, excluding petroleum, and gems and jewellery, which entail marginal value addition, engineering goods recorded a healthy 58.8% rise to $9.6 billion, while cotton yarn, fabrics and handloom products jumped 55.6% to about $1.3 billion.
Exporters worried about stuck payments as Sri Lanka declares economic emergency (Source)
Sri Lanka's economic emergency declared by the country's President Gotabaya Rajapaksa last week to control spiralling food prices and declining foreign reserves has exporters in India worried as the curbs placed by the island nation on imports and foreign currency may worsen payment problems they are already facing. While India's exports and imports may be the first to be affected by the crisis in Sri Lanka, its investments in development projects and areas such as petroleum retail, tourism & hotel, manufacturing, real estate, and financial services may also take a hit if the situation worsens. India's goods trade with Sri Lanka, at an annual $3.6 billion, is not huge, but the fact that India has a trade surplus with the country, an FDI flow worth $1.7 billion during the period 2005 to 2019 and a considerable amount invested in development projects, makes India a stakeholder in its neighbour's recovery.
India's August gold imports nearly double as prices dip ahead of festivals (Source)

India's gold imports in August nearly doubled from a year earlier to the highest in five months on strong demand and as weaker prices prompted jewellers to ramp up purchases for the festive season. Higher imports by the world's second-biggest bullion consumer could support benchmark gold prices, which have corrected nearly 12% from an all-time high of $2,072 in August 2020. The surge in imports could increase India's trade deficit and pressure the rupee.
India imported 121 tonnes of gold in August, compared to 63 tonnes a year earlier. In value terms, August imports surged to $6.7 billion from $3.7 billion a year ago
About us

Seawise Capital is a UK based trade finance company, offering factoring facilities to Indian Exporters. We have been operating in India since 2018, and are backed by large institutional US and UK based investors. With our own balance sheet capital, we fund the customers ourselves and have a quick funding process. We have customers all over the world, ranging from small to large scale exporters and we can tailor our solutions based on your requirements. With our fast and fully online process, you can get set up with a facility in less than a week. One of the benefits of working with Seawise Capital over other providers is our flexibility. We understand the delicacy of the supplier/buyer relationship, and structure bespoke and cost-effective solutions that work for all the parties involved. We can cover buyers in over 150 different countries, and work with leading credit insurance providers and banking partners to make sure our clients get the best service. Get in touch with us, to see how Seawise Capital could help you grow your exports.